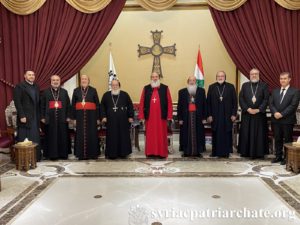 On December 11, 2019, His Holiness Patriarch Mor Ignatius Aphrem IImet with their Eminences Archbishops: Mor Theophilus George Saliba, Archbishop of Mount Lebanon and Tripoli, Mor Timotheos Samuel Aktas, Archbishop of Turabdin, Mor Philoxenus Yusuf Cetin, Patriarchal Vicar in Istanbul, Ankara and Izmir, Mor Dionysius Issa Gurbuz, Patriarchal Vicar in Switzerland and Austria, Mor Justinus Boulos Safar, Patriarchal Vicar in Zahleh and Beqaa, and Mor Clemis Daniel Kourieh, Archbishop of Beirut, who were visiting the Patriarchal Residence in Atchaneh. Dn. Josef Onder and Malfono Issa Dogdu were also present.
His Holiness and their Eminences discussed general matters of the church.
Click to view slideshow.