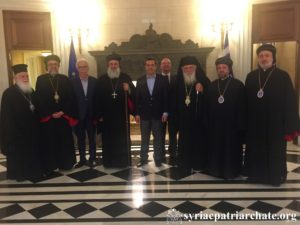 On November 15, 2018, His Holiness Mor Ignatius Aphrem II and His Beatitude Ieronymos II, Archbishop of Athens and all Greece, met His Excellency Alexios Tsipras, Prime Minister of Greece in the Maximos Palace in Athens in Greece.
His Holiness thanked the Greek government and the Greek people for hosting the refugees, and assured to His Excellency his prayers "that you remain united and strong for the sake of the Greek people and also for the sake of Christians in the ME". He emphasized that "We need peace in our land, and we need to be able to live in dignity and equal citizenship". His Holiness asked the help of the Greek government in the case of the two abducted Archbishops of Aleppo Mor Gregorius Youhanna Ibrahim and Boulos Yaziji. Finally, he spoke about the Antioch Syrian University wishing to have cooperation and support from Greek universities.
In turn, His Excellency assured that "we are following the dramatic events happening in Syria; the entire humanity is affected because the crisis has taken a worldwide dimension". He also assured that "from the first moment, the Greek people embraced the refugee crisis, despite its heaviness on Greece", for "I can imagine that Christians were on the frontline of those who are suffering". "I would like to assure you" His Excellency stressed "that Greece will always stand by the Christians and wishes to play a constructive role without intervention in internal affairs".
Their Eminences archbishops: Mor Selwanos Boutros Al-Nemeh, Archbishop of Homs, Hama, Tartous, and Environs, Mor Athanasius Touma Dakkama, Patriarchal Vicar in the United Kingdom, Mor Clemis Daniel Kourieh, Metropolitan of Beirut, His Grace Bishop Ioannis from the Church of Greece, and Very Rev. Raban Joseph Bali, accompanied His Holiness and His Beatitude.
Click to view slideshow.