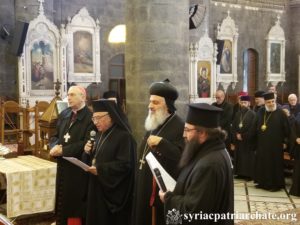 On December 20, 2018, His Holiness Patriarch Mor Ignatius Aphrem II participated in the Christmas Spiritual Retreat for the Clergy of Damascus, held at the Greek Catholic Patriarchate of Antioch and All the East.
His Beatitude Joseph Absi, Greek-Melkite Catholic Patriarch of Antioch and all the East, Alexandria, and Jerusalem, hosted the spiritual retreat at the Lady of Dormition Cathedral in the Patriarchate.
His Eminence Mor Timotheos Matta Al-Khoury, Pratriarchal Vicar in the Patriarchal Archdiocese of Damascus, as well as a number of the Reverend priests, monks, nuns and deacons of ous Syriac Orthodox Patriarchate and of Mor Aphrem, Mor Baradeus and Holy Cross Monasteries, also participated in the retreat.
His Eminence Cardinal Mario Zenari, Apostolic Nuncio in Damascus, along with the Archbishops and clergy of Damascus also attended the retreat.
During the retreat, His Grace Bishop Nicolas Antipa gave a meditation about the new perspective on life that our Lord gave us being born in a manger.
In his word, His Holiness Patriarch Mor Ignatius Aphrem II emphasized that our Lord Jesus is the greatest gift of the Heavenly Father to humanity. He is the only reason for Christmas. His Holiness added that decorations and celebrations should not grab our attention away from the real meaning of Christmas. He considered that our Lord is in control and He is the Governor of all the world even when He was born a Babe in a manger. His Holiness continued that we should worry or be afraid, since, amid all the destruction and wars that surround us, our Lord is the Almighty God, He is our Loving God who will never forsake us. His Holiness concluded with a prayer for the Prince of Peace to spread His peace throughout the globe, especially in the Middle East.
During the retreat, His Eminence Cardinal Zenari, as well as a number of their Eminences and Excellencies contributed speaking about the role of the Church as an outgoing Church; they also spoke about Virgin Mary as the new Eve, the decorations which are good sign that peace is back to Syria, the piece of wood of the manger and that of the cross, Emanuel – God with us, casting all fears away, and Christmas eve as a heart-transforming eve.
His Beatitude Patriarch Absi then spoke welcoming all the clergy present. He also invited them to keep their eyes directed towards the Baby born, especially as clergy.
Several meditations and chants from the various liturgies were also presented during the retreat.
Click to view slideshow.