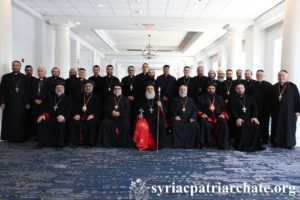 On July 27th 2018, His Holiness Patriarch Mor Ignatius Aphrem II presided over the general meeting of the two Archdioceses of Western and Eastern USA, at the 54th Annual Convention held in Tampa, USA.
Their Eminences Mor Clemis Eugene Kaplan, Patriarchal Vicar for the Western USA, and Mor Dionysius John Kawak, Patriarchal Vicar for the Eastern USA, reported on the work of their Archdioceses along with the representatives of the parishes, clergy and lay people, who presented different aspects of the ministries offered at the parishes and institutions of the Archdioceses.
His Holiness answered the different questions raised at the meeting. He gave his guidance on how to restructure the convention, keeping its original mission alive and improving elements of spirituality and Christian teaching.
At the end of the meeting, His Holiness blessed the delegates and representatives of the parishes asking the Lord to strengthen them in order to spread His gospel throughout the communities they serve.
Their Eminences: Mor Dioscorus Benjamin Atas, Patriarchal Vicar in Sweden, Mor Justinos Boulos Safar, Patriarchal Vicar in Zahla and Bekaa, Mor Maurice Amsih, Archbishop of Al-Jazeerah and Euphrates, also attended the meeting.
Click to view slideshow.